AEG is going to Pax Unplugged 2022!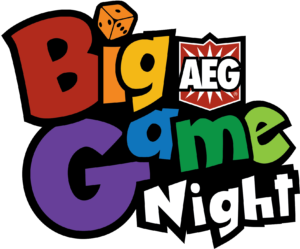 We are once again preparing to run the Big Game Night event at Pax Unplugged in Philadelphia in December. The event will run on Saturday December 3rd. To provide the best experience we can to the attendees we recruit helpers who will work as GMs who will help teach the games at the event and provide directions for seating and answer questions that the attendees may have.
This year as a way of saying "thank you" for helping we'll gift each household that helps with free copies of the Big Game Night game package (consisting of two all new games The Guild of Merchant Explorers and That Old Wallpaper), our new game Wormholes which was released this summer, plus some additional surprises we'll reveal at the event. You will also be offered $50 in credit at our booth in the exhibit hall.
This event will run for 4 hours on Saturday from 7pm to 11pm. We expect the Helpers to be available starting at 5pm for a pre-event briefing and some initial setup work. Helpers must be present for the entire 6 hour period.
We have received enough applicants to fill all the Helper slots available. Thank you for your interest! We hope to see you at the show!