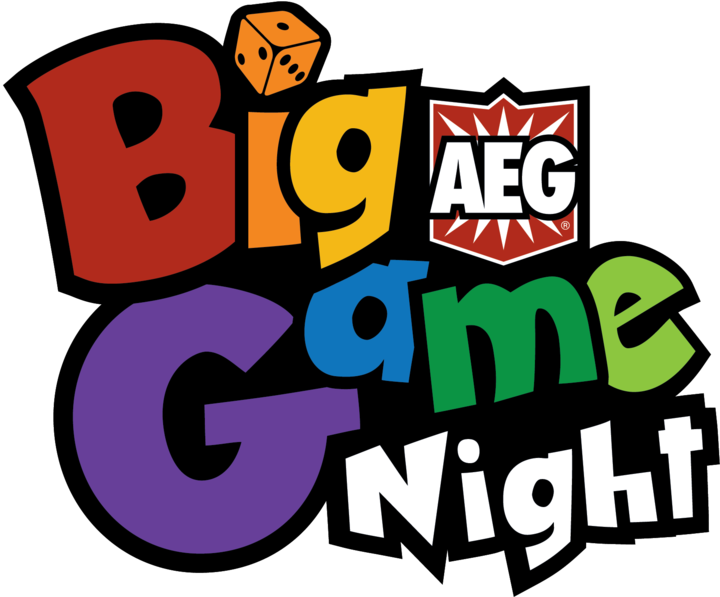 PLAY FUN GAMES!
Big Game Night has been AEG's premier live event and conventions for a long time. Since this year's convention season is going to be really different, we have decided to use the magic of Kickstarter (and the USPS) to bring Big Game Night to you – even if you can't make it to Gen Con.
We missed a whole Summer of conventions in 2020, and while conventions are coming back, 2021 conventions are going to be different from previous years with caps on attendance and event size. So this year, in addition to running a small version of BGN at Gen Con, we are going to open up BGN to a LIMITED number of our fans with our Big Game Night Kickstarter.
By backing this Kickstarter, you will get two UNRELEASED AEG games along with a special bonus (a $90 total value) all for just $40 plus shipping. The Kickstarter will launch at noon EST on June 22nd. Because we are limiting the number of backers to just 2000, you'll want to jump on early to get in before this event sells out.
The Big Game Night Kickstarter is ONLY open to US addresses to shipping constraints.
This year, Big Game Night will be featured at the following Events:
GENCON 2021 (Indianapolis, IN)
If you would be interested in helping as a GM (GM's get the Participant Reward for free!) Please email conventions@alderac.com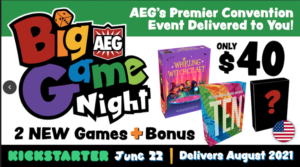 2021 Big Game Night Games