Not every gamer can make it to GenCon and a lot of those gamers end up in your store! Don't be sad about your #GenCan't. This year, AEG is bringing GenCon Big Game Night fun to your store!
As part of AEG's Big Game Night, brick and mortar retailers will have access to a month early pre-release of our three Big Game Night games PLUS the brand new Smash Up expansion: World Tour Culture Shock! Stores ordering 4 or more of each Big Game Night title will receive eight limited edition collector's pins of two designs – four of each. Each pin represents a different Smash Up faction, in this case the Spartans and Kaiju. These pins are limited and will not be made again. Players will want to collect them all.
The three Big Game Night games are all new releases: Point Salad, Curios, and Walking in Burano. These fast-playing, easy to learn games will be a hit at game night. Don't miss your chance to have them a month before anyone else!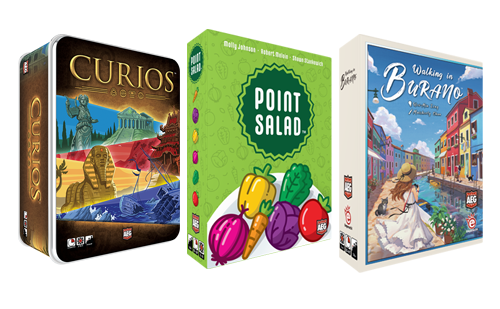 If you are a game store retailer who wants to take part in this exciting promotion, please contact sales@alderac.com today!

To find a store that is carrying Big Game Night 2019, check out the list of participating stores below!
[table id=1 /]