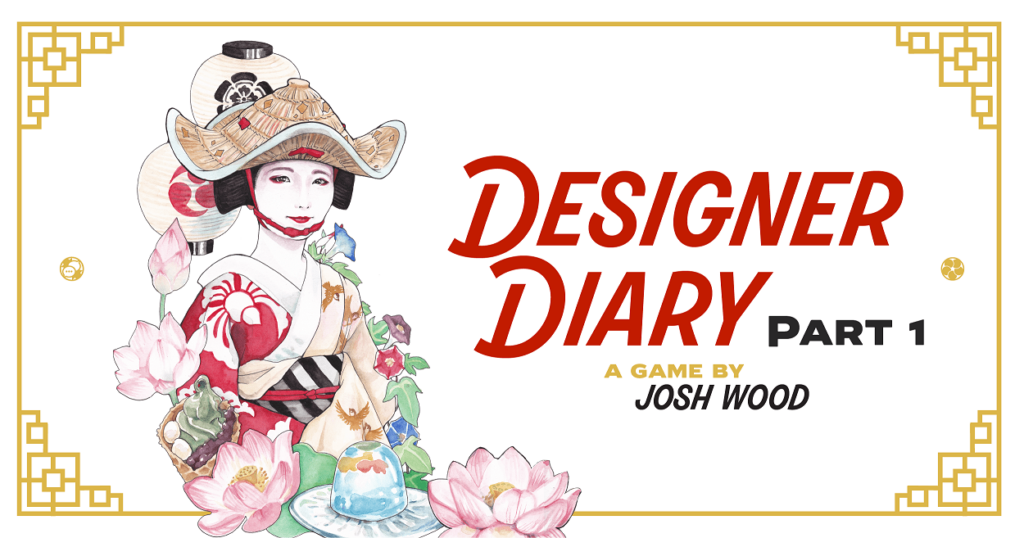 In 2020, after 3 years of saving, my girlfriend Kathleen and I were ready to go to Japan. I spent a lot of time working on the trip: writing notes, figuring out the train system, watching countless travel influencers, I was even learning Japanese! Finally, we saved enough! We had the trip booked: flights, hotels, restaurants, EVERYTHING!– then the pandemic started.
In the early days of the pandemic, I would often bump into my notes that I had written for the vacation, and they were a painful reminder of the trip we didn't get to take. Sure, I could've thrown away the notes and moved on, but instead I felt inspired to make this game. I felt that building my trip was like a game with its strategic planning and daily optimization. But also it let our trip still exist, at least in some small way. Making the game allowed me to take a deep dive into Japanese culture, and now when I do finally go it will be even better!
Despite being a "cat lady" and living near Santa Monica, Let's Go! to Japan is probably the most personal game I have ever made. At times, I probably became obsessed with this project. But it was the pandemic; what else was I supposed to do?
In these designer diaries, I hope to cover these last couple of years I spent making this game. Anyways – Let's Go!
While Let's Go! To Japan is a card drafting and tableau building game, my first thought was to create a Roll and Write game. I have really wanted to make a Roll and Write that players would actually write more than simple numbers or mark off check boxes. I felt this would be a good opportunity since your scorepad could mimic what actual itineraries look like, much like my notes I made about Japan that were crammed into my drawer haunting me.
The main reason I decided against it was that when I started to plan out the cards, I realized I wanted them to have a lot of information and personality. I have had the pleasure to work with Elizabeth Hargrave on two games now, and I really enjoy her process and how she displays her interests thematically. Wingspan has SO many bird cards! You can look at any card and understand the size of the bird, what it eats, and where it lives. You can tell she cares about birds and wants to get the facts right.
I wanted the cards in my game to feel thematic to the people who have been to Japan, for the people who will go one day, while making you feel like you are a tourist visiting, without even stepping on a plane. I grew concerned that my cards would become too complex for people to write down on scoresheets, so I opted to make them jam packed with info and not make a roll and write. At times, perhaps there was too much… I don't know if players would care that they couldn't play Imperial East Gardens on Monday or Friday due to the realistic fact that those are the days it's actually closed.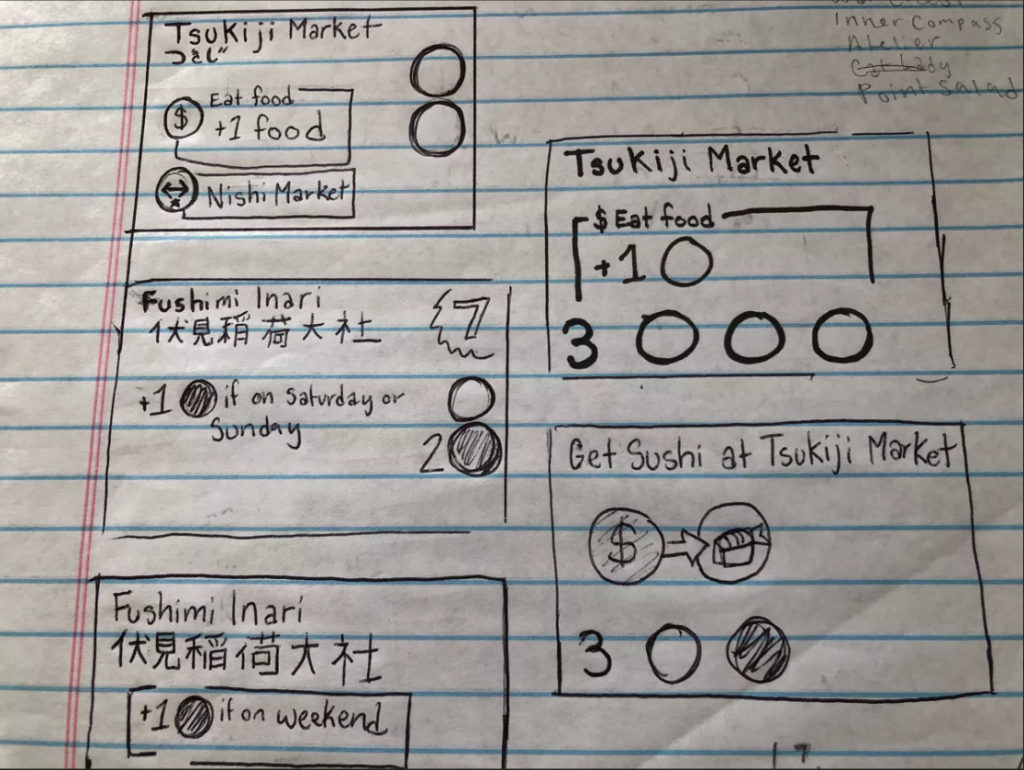 Activity List and Figuring Out Why People Travel
When choosing activities for the game I wanted to create a snapshot of what a memorable Japanese vacation looks like. Creating the list seemed easy at first– Just put down all the things I wanted to do in Japan. Easy. But I knew there needed to be more options and I needed to include activities that are off the beaten path.
I would conservatively say I have put in over 200 hours into researching places and activities in Tokyo and Kyoto. I have pages and pages of detailed notes about all the different places around the country. With over 2,000 temples and shrines in Kyoto, I had to decide which seven or so that would make it into the game. With the 1,000 or so neighborhoods in Tokyo, which ones do I highlight?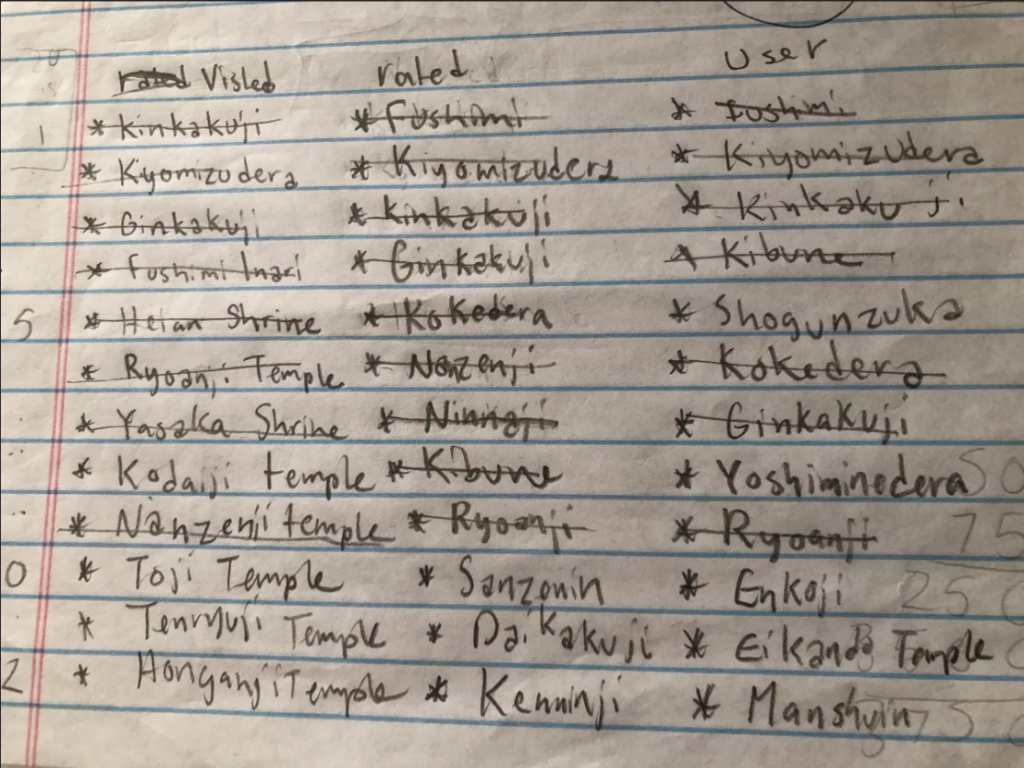 I tried to include as many wonderful experiences as I could, I wish I found room for Shimokita or another temple in Kyoto, but unfortunately choices had to be made. Heck, I only got to put two cities in the game. What about Hiroshima, Osaka, Nara, Kamakura, or Obama? (Yes there's an Obama, Japan.) All I can say is that I have tried my hardest to be accurate and thorough. I hope people will forgive me if their favorite place isn't in the game; fortunately I was able to make the Day Trip expansion to show off some of the amazing cities that I was unable to put into the base game.

When selecting activities I also had to think about what other people like to do on vacation. I realized early on I was choosing activities that I would like to do, but I needed to make sure that more types of people were represented. Some people are foodies, some want to relax, some are more budget conscious. Even important mechanisms such as the walk mechanism came out of players telling me that they enjoy leaving large swaths of their schedule open when traveling.
Ultimately I want all players to play this game and feel that they are able to express the way they like to travel. I also hope you find new and fun ways to role-play and plan that are very different from your standard practices if this was a real trip.

This might be a good time to bring up a feeling I like to put into my games. I love when games tempt me to take cards or actions that might not be optimal, but are things that I personally like.
I want people to take the Anime Museum card because they are fans of anime over that sumo card even if it might score them more points. This is the reason why I made sure to pick a wide range of activities. One of my former co-workers and the designer of Sheepy Time, Neil Kimball, said to me that one of his favorite things to do on vacation is to hang out in his hotel. Sounds boring to me, but this made it important for me to create an expensive hotel card as well as some other fun lodging cards.

After curating the original list, I talked to Seiji Kanai, designer of Love Letter, and some friends who had spent a lot of time in Japan, and other Japanese people I knew for some advice about the list I had created to make sure my research was accurate and would give players the the most immersive experience.
People had me add items and take off a few until we came up with the list of cards that mostly ended up in the game. Some cards weren't able to be in the game due to artist restrictions or legal reasons. While I couldn't show a lot of trademarked places in the original list, I was successful at getting approval from Tokyo Tower to use its likeness in the game. Special shoutout to my Japanese teacher and cultural consultant, Machiko, for helping me write a formal letter to them in Japanese.

Now that my list was finalized, I was ready to start putting the pieces together to make my prototype. In the next part I will go into more detail about the design process.