AEG is going to Gen Con 2021!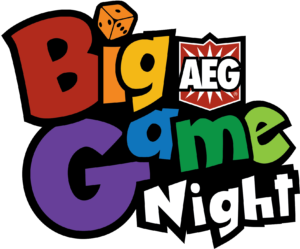 Every Gen Con we host a special event called Big Game Night. At Big Game Night players are given a selection of new AEG games and seated in groups in a large hall, for 4 hours of gaming! It's a fun evening full of special surprises and lots of fun interaction with other gamers.
In order to make the event work we need to form a cadre of Helpers who will assist our staff. Helpers may "GM" groups of tables, answering rules questions and providing guidance on how to set up and score the games being played; or they may assist the staff in marshalling the queue of gamers waiting to be seated, or they may assist in other duties like collecting debris, distributing product, directing traffic, etc.
This is a great way to come behind the curtain at Gen Con and gain some experience within the tabletop gaming industry. You'll meet the AEG staff, and get to see how we do what we do at shows to make a fun, safe and entertaining experience for our guests.
This is not an offer of employment. People who are Helpers at Big Game Night do not receive compensation and are not members of the AEG staff.
This year as a way of saying "thank you" for helping we'll gift the Helpers with free copies of the Big Game Night game package (consisting of two all new games Whirling Witchcraft and TEN, plus some additional surprises we'll reveal at the event) and we will provide you with a 4-day badge for the convention itself! (If you have already paid for your convention badge we will provide you with a reimbursement for the amount of a standard 4-day convention badge as sold by the convention to the general public).
Every year we also find ways to add additional gratuities to the Big Game Night Helpers – come along for the ride and you'll discover what this year has in store for the team!
This event will run for 4 hours on Friday from 8pm to Midnight. We expect the helpers to be available starting at 7pm for a pre-event briefing and some initial setup work. Helpers must be present for the entire 4 hour period.
With the current state of things as a result of the SARS-CoV-2 we are instituting a few additions to our qualifications for Big Game Night Helpers.  
This year, to be part of the team you will need:
To be willing to wear a face mask (not neck gaiter) if Gen Con requires them

You will need to provide the AEG Events Manager with proof of having received the Covid-19 vaccination (both doses for Moderna and Pfizer)
To be considered for our Big Game Night Team we have several prerequisites:
A friendly, outgoing personality

The ability to handle multiple game tables simultaneously

Be willing to and have the time for learning the new games prior to the convention

Be able to stand for long periods of time and walk long distances

Wear nice jeans, belt and closed-toe shoes to while you are at the event
Are you interested in becoming a Big Game Night Helpers?
(By completing this form you will be signing up to the AEG Newsletter and Marketing & Promotions List. You an opt-out at any time.)
Please Note: The form may take up to 30 seconds to process; once you click Submit you can navigate away from this page. Please do not submit the form multiple times!
After the system has recorded your submission you'll be automatically redirected to a confirmation page.