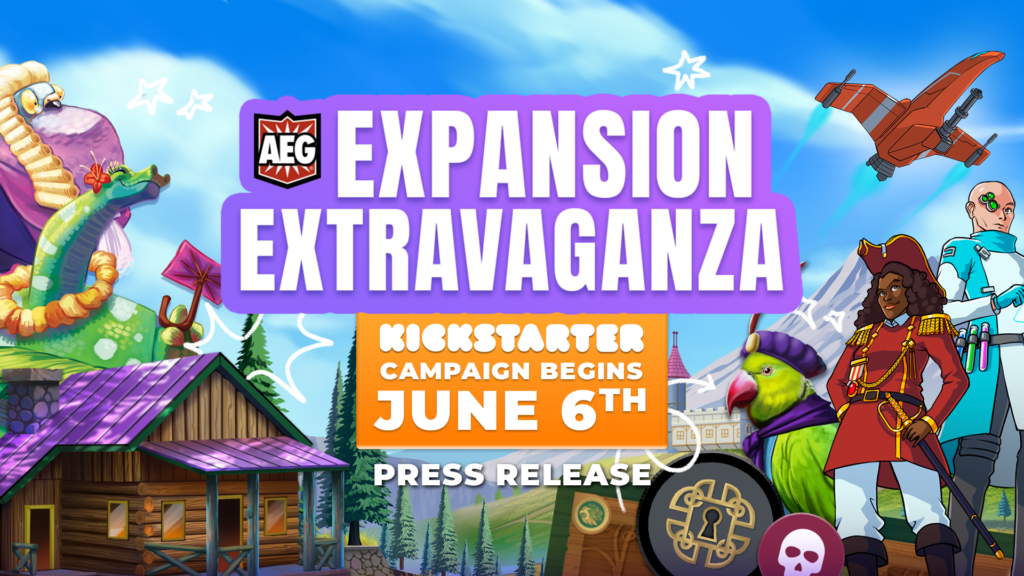 AEG Proudly announces their newest KS project: Expansion Extravaganza
Henderson, NV, USA – May 19th. 2023

We are delighted to announce our newest project, AEG's Expansion Extravaganza, including four highly anticipated new expansions for Cubitos, Space Base, Tiny Towns, and Warchest. The expansions will become available on Tuesday, June 6th, on Kickstarter: https://www.kickstarter.com/projects/alderac/aeg-expansion-extravaganza?ref=1fiibg

For a limited time, All FOUR new expansions will be available for only $69. Even better, the all in pledge is one of each of the four base games plus one of each of all of their expansions (that's 10 expansions) for only $199, a savings of $287!! If you already own some of the base games or expansions, we still have a deal for you: just choose your own adventure in our A la Carte pledge.

What's in these new expansions?


  Tiny Towns: Architects – Immerse yourself in the world of miniature cities with 25 new building cards, including an alternative to cottages, and 5 new monument cards. Enhance your gaming experience with a dry-erase scoreboard and meeple stickers that bring your tiny town to life.


 War Chest: Nightfall – Dive into the shadows with four new units that introduce subtle yet deadly tactics. Prepare for the unexpected, as darkness brings chaos and confusion, disrupting enemies even before the main battle commences.


 Space Base: Genesis – Expand your interstellar empire with 102 new ship cards and 36 new colony cards. Experience a wealth of card variety and explore additional paths to victory, providing seasoned players with exciting new strategies.


️  Cubitos: Fowl Play – Join the exhilarating race with two new colors of dice. These new dice bring their own ability cards, alongside fresh options for the existing dice. Immerse yourself in a world of high-stakes racing with a double-sided racetrack, offering even more thrilling racing options. Plus, with additional components, you can now enjoy the game with up to six players!

Experience the ultimate gaming adventure with these captivating expansions, designed to elevate your gameplay and immerse you in worlds of imagination.

Don't miss out on this incredible opportunity to enhance your gaming collection and save big. Visit our KS page and get notified when we go live. https://www.kickstarter.com/projects/alderac/aeg-expansion-extravaganza?ref=1fiibg

For media inquiries, please contact:
Alderac Entertaintment Group
pr@alderac.com