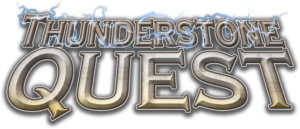 Leider haben wir uns entschieden, Thunderstone Quest nicht auf Deutsch zu produzieren. Wir haben bis zur letzten Minute daran gearbeitet, eine deutsche Produktion zu realisieren, aber wir haben keinen gangbaren Weg, um das Spiel auf Deutsch zu produzieren. Es tut uns sehr leid, dass wir diese Aktion nicht auf Deutsch durchführen konnten.
Unfortunately we have made the decision not to produce Thunderstone Quest in German. We worked until the last minute to make German production happen but we do not have a viable path forward to produce the game in German. We are extremely sorry that we were unable to fulfill this campaign in German.
We very much would like to convert your order from German to English so you can experience Thunderstone Quest. We'll be able to deliver English-language Thunderstone Quest to you quickly. We can switch your whole order to English (although we have a limited number of To the Barricades units left and we will allocate them in the order requests are received and then work with all remaining customers directly on a solution).
As a way of compensating you for both switching to English and for the extensive delays, we'd like to offer you a $150 credit for any Kickstarter that AEG runs in 2022 or 2023 (and that includes the recently completed Dead Reckoning Letters of Marque campaign). You can use that credit at any time by emailing us, telling us which campaign you would like to use the credit for, and requesting that the credit be applied.
The most recent Thunderstone Quest campaign for Deepwood Defenders is still open on BackerKit. The new content in this Kickstarter is the Deepwood Defenders package and it is priced at $55. If you will allow us to switch your order from German to English, we'll provide you with a complimentary order for Deepwood Defenders (we'll also cover the shipping & tax for that order).
If you have already backed that campaign we will refund your payment on Kickstarter, and offset the shipping & tax charges in BackerKit.
Please email us at kickstarter@alderac.com and we will make arrangements for your conversion or refund.
Again, everyone at AEG is extremely sad that we cannot produce Thunderstone Quest in German. And we apologize again for not being able to fulfill your order for German language Thunderstone Quest.