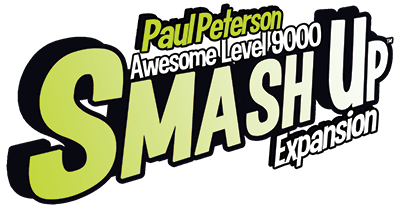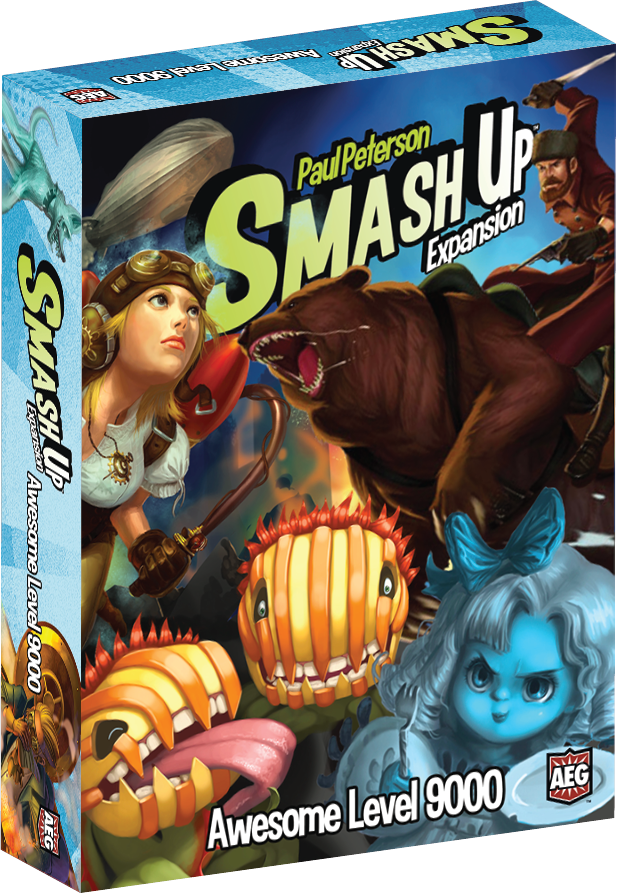 Smash Up: Awesome Level 9000 expansion features 4 all-new distinct factions that you can mix and match to defeat your opponents. Try them with the Base Set to create exponential new combinations!
Download the Awesome Level 9000 Rulebook Here! (12MB PDF)
Killer Plants – Better deal with these guy fast, leave them alone and they'll grow all over the place… like weeds! *rimshot*
Ghosts – Unlike just about every card game in history, Ghosts benefit from having less cards in your hand. Can you be immaterial?
Steampunks – Can't leave a good base alone, the Steampunks will add new abilities to bases to help your strategies.
Bear Cavalry – What's scary? A bear. What's really scary? A cossack riding a bear! Bear Cavalry will use fear to drive opposing minions away to other bases.
Smash Up: Awesome Level 9000 also contains 8 new Base cards to compete over.
Contents
80 Minion & Action Cards
8 Base cards
12-page Rulebook
1 VP Token Sheet
Retailer Info
SKU: AEG 5502
ISBN: 7-29220-05502-6
MSRP: $24.99
Case Count: 6 Displays
Reviews
"Smash Up is still one of my hits for just pulling out and have an awesome blast of fun with everybody and this only makes it better." —The Dice Tower
"The four new factions are a lot of fun." —Weaponsgrade Review
"The combo's presented between these four new factions and the original eight factions are some of the most fun exploration times I have ever had in games." —Critical Review
"Smash Up, Awesome Level 9000 is a welcome expansion for anyone who owns the game or is looking to get into it." —The Dread Gazebo
"Smash Up is a wonderfully silly and fun card game and Awesome Level 9000 just gives us more. If you already own and enjoy Smash Up, you'll most likely get a kick from the fresh ideas that Awesome Level 9000brings to the table." —Dice on Fire
"This expansion adds more to the fun.  Twelve total factions means a lot more mixing and matching, a lot more variety, and a lot more fun!" —I Slay the Dragon
"The new factions add more variety, strategies and fun to the base game. This expansion blends easily with the base game as there is little new to learn." —Play Board Games
"Awesome Level 9000 is a wonderful addition to Smash Up. It compliments existing factions and brings new themes that are not only interesting to play, but also effective in scoring points." —Giant Fire Breathing Robot