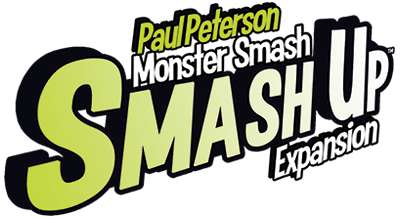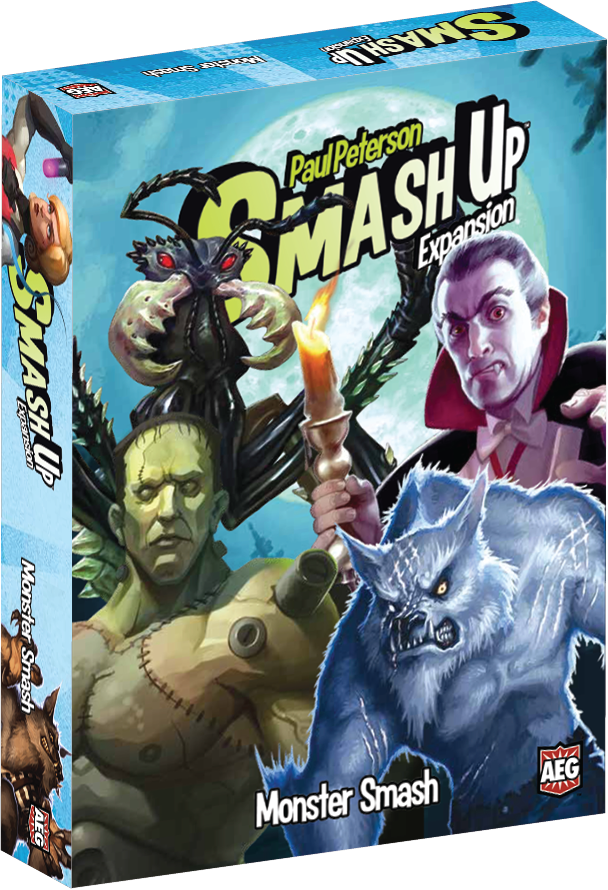 Hide under the sheets! Monsters are coming! Smash Up: Monster Smash brings all the great horrors of the screen to your game of Smash Up. Can you master these horrifying factions to defeat your opponents? With new "power counter" mechanics, Monster Smash brings all-new excitement to your base smashing madness!
Download the Monster Smash Rulebook Here! (8MB PDF)
Vampires – From the dark gothic recesses of ancient brooding castles, draped in black velvet, and probably listening to Bauhaus, the children of the night come to drink deep from Smash Up! Draining the very life from their victims, these cursed souls will gain power upon destroying your opponents' minions.
Mad Scientists – Working in the lab, late one night, my eyes beheld an eerie sight. For my monster from his slab, began to rise. And suddenly to my surprise, he did the Smash… Up. The Mad Scientists, intent on unlocking the mysteries of life, have instead released death in the form of powerful creations! Their toying with nature can empower various minions, but at what cost?
(Apologies to Bobby Pickett)
Giant Ants – The future of atomic energy was never supposed to have this disastrous effect! Mutant ants spill out from giant hills, intent on destroying our homes and all else that stands in their colony's way! The ants work as a great hive mind, spreading their power around as necessary to ensure their atomic-age victory!
Werewolves – From howling at the moon, to cowing their pack, or ripping through town, the werewolves are here to assert their place as the alphas of Smash Up. Using their explosive power to beat down opponents, the werewolves will not relent in their drive to hunt and dominate all that stand against them.
Smash Up: Monster Smash also contains 8 new Base cards to compete over.
Contents
80 Minion & Action Cards
8 Base cards
12-page Rulebook
1 VP/Power Token Sheet
Retailer Info
SKU: AEG 5506
ISBN: 7-29220-05506-4
MSRP: $24.99
Case Count: 6 Displays
Reviews
"I love the Ants… The Ants are awesome they are hilarious. Overall this is a really, really fun expansion. —Weaponsgrade Review
"Smash Up releases another good expansion just in time for the Halloween holidays and nails the theme with Monster Smash!" —LetsLeelUp.net
"The power tokens are cool… id say it's my second favorite expansion so far." —Dice Tower
"This expansion adds four strong factions to an already excellent game. Not only that, but it continues the humorous style of the base game and other expansions with characters we're probably all familiar with. The theme of this expansion is power tokens which add permanent (and visual) boosts to minion power." —Matt W.
"Monster Smash doesn't change the rules for Smash Up, but it does what an expansion should: add variety, options, and humor to the game without unbalancing it.  These factions are a welcome addition" —The Armchair Critic