Cubitos: Fowl Play Designers Diary
For me, the Fowl Play Cubitos expansion has a few long-awaited additions. 
The first is an expansion to the variety, in particular the inclusion of 2 new colors of dice. The original prototype had 10 different dice types that you could buy, but for component cost reasons we took it down to 8. I think, for the base game we managed to make the best of 8 different die types, leaving players using any of the recommended setups, and most random setups, with multiple viable build paths and interesting effect combinations.  However, this expansion fulfills the original vision, adding teal pigeon dice and pink flamingo dice to the mix.

The pigeon is a low/middle cost die that grants square money on one side and a combo/money card effect on the other. 
The Flamingo is all about NOW and ACTIVE effects that create synergy and combo effects during your roll phase. 
Together they shake up the possibilities and greatly expand the viable paths to victory in any given setup. It was important to my design goal that they also don't add more rules complexity to the game; there are no new rules for these dice, so they are new-player-friendly.
With 2 new cards also added for each of the original 8 dice colors and a new double-sided race board, there is a lot of new variety here, but nothing you need to steer a new player away from.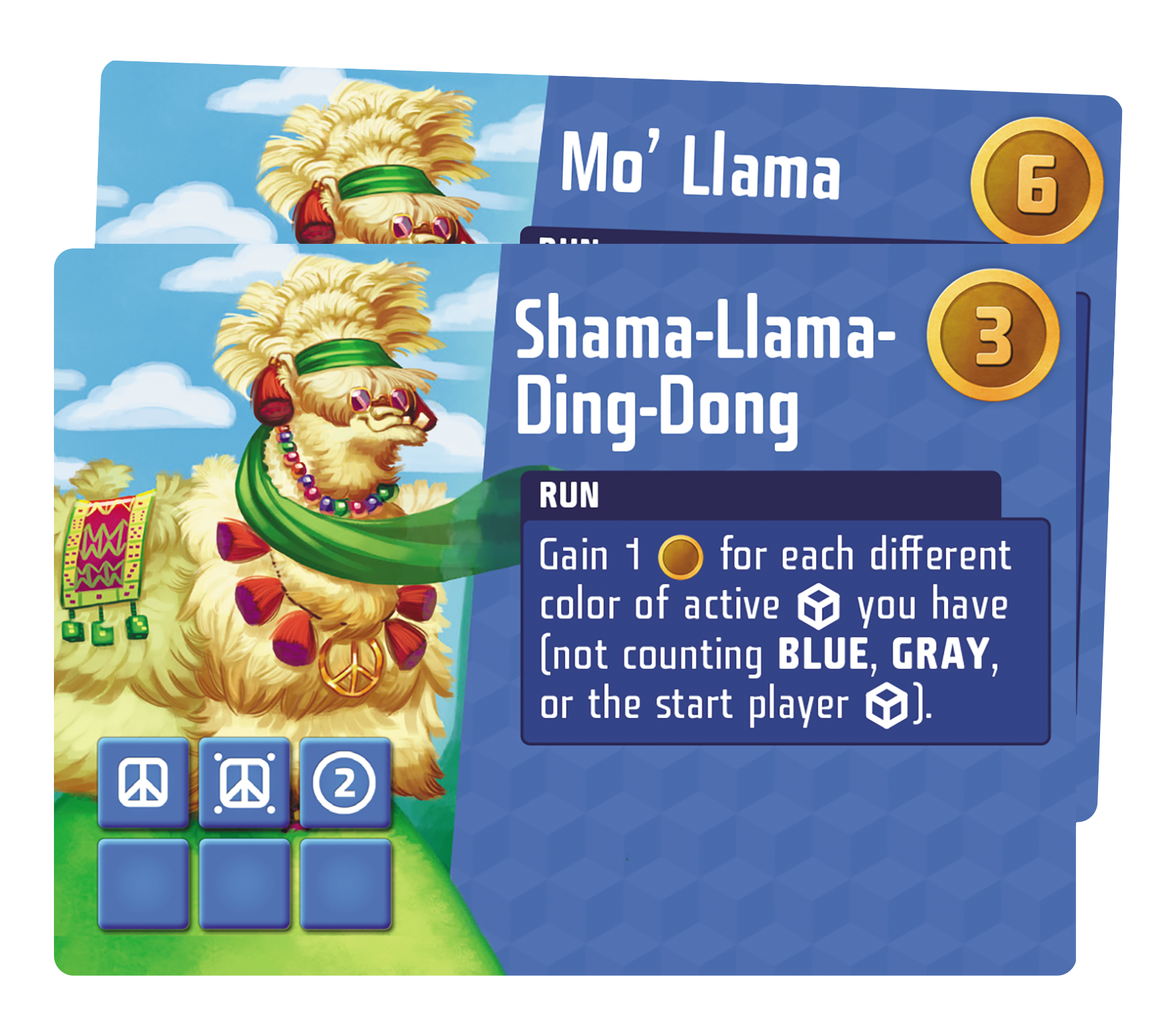 Second is the expanded player count. My favorite player count is generally the max count. I like a full game with a lot of people engaged at once. The original prototype for Cubitos had the game playing 2 to 6 players, and that's how it was for most of the playtesting process. For the sake of game pacing and simultaneous play at all player counts, and especially higher player counts, I'd committed to making the racing portion of Cubitos non-confrontational, which meant the length and pace of the game would not stretch out and slow down to resolve conflicts or board interactions. 
As a result, I love Cubitos at 6 players and think it plays great. Unfortunately, for the base game, the components and desired MSRP proved to be a limiting factor and the decision was made to make the game a 2 to 4 player game. Happily, this expansion takes the game back up to 6, so this original vision comes to fruition as well!
Interestingly, my first draft of this expansion was quite different and, in my opinion, way off track. I tried adding board interactions, in particular obstacles and Mario-Cart type effects. Put simply, they were not fun. There are a lot of great racing games that are about racing and all the interactions associated with racing.  But fundamentally, Cubitos is an engine-building, push-your-luck game, and as I strayed away from that core experience, the game felt different and lost some of its fun. So, wisely I think, I changed course and leaned more into what makes Cubitos great; pulling out some of the ideas that we had sidelined from the original prototype for cost-saving reasons. 
In the end, if you are someone who did not like the base game of Cubitos, this expansion is unlikely to change your mind. But if you're a Cubitos fan, this is an expansion for you. More variety, more combos and epic dice chucking, and more just-one-more-roll drama!